Well, I've certainly been neglecting this here journal for a while- 33 weeks according to the little notification on the home page.
Anyhow, after looking at and considering the Blood Oath cover for several weeks, I decided to try out a little Photoshop fun on it. Just to try and make Zekk look a little younger- smoother, less wrinkled skin, take the shine that made his hair look gray out. Not having used Photoshop in some time now, I got into the little project and went so far as to manipulate it further. So, here's my end result: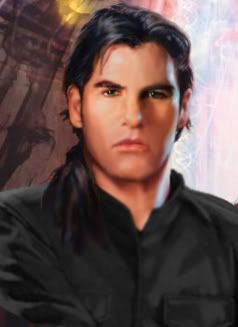 The shirt is actually from
this photo
of Jacen Solo from Wookieepedia, altered a bit.
Yes, this is how I spend large quantities of my free time... why do you ask?
I'm Feeling::
creative
Listening To:: Piano Man - Billy Joel